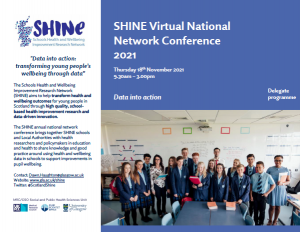 We are very much looking forward to the SHINE Virtual National Network Conference 2021 on Thursday 18th November. The theme of the conference is:
"Data into Action : transforming young people's health and wellbeing through data"
The conference is an opportunity for SHINE member schools and Local Authority associates to come together with health researchers and policy makers to share knowledge and good practice around supporting improvements in young people's mental health and wellbeing through the use of data.
We have an exciting programme of speakers lined up. Please have a look at the conference programme to find out more.
If you haven't received an invitation and would like to attend, please contact the SHINE Network Manager to find out more at:
sphsu-shine@glasgow.ac.uk