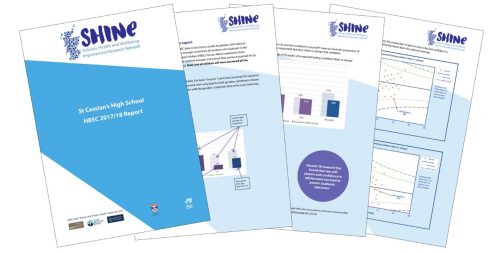 SHINE schools who participated in the Health Behaviour in School-aged Children (HBSC) Survey 2017/18 will receive a personalised school wellbeing report.1
School reports include your own data on a range of health behaviours and outcomes including:
Mental wellbeing
Social media use
Bullying and cyberbullying
Healthy eating
Sleep health (secondary schools only)
Reports provide supporting text with relevant up-to-date research findings and suggested school resources. They are useful for:
Planning and prioritising health and wellbeing initiatives
Engaging parents with pupil health concerns
Supporting CfE self-evaluation
Enriching the curriculum with up-to-date health-related research findings, for example in maths, science or PSE lessons.
Schools who sign up to SHINE but didn't participate in the HBSC 2017/18 Survey receive the relevant Regional Improvement Collaborative to provide some local Scottish health and wellbeing data.


For all schools who have signed up to the SHINE Network, we will be developing mini-modules on key areas of Health and Wellbeing, such as mental wellbeing, sleep and risk-taking behaviours. This will allow schools to generate their own data providing evidence for monitoring and planning purposes.
1Schools providing HBSC returns for fewer than 15 pupils will not be able to have their individual school data fed back but will receive a composite report with other local schools.