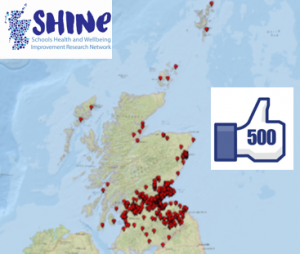 Since the start of the first COVID lockdown last March, the SHINE network has tripled in size. Today we are celebrating the 500th Scottish school to join us. It has never been more apparent how important it is to work together to improve wellbeing outcomes for young people.
Schools tell us that they value the opportunity to meet health researchers through our webinars and national events, which have been held entirely online in the past year. Having access to up-to- date research through briefings and knowledge exchange activities supports schools to know the wider HWB context in Scotland and how this compares to the international context.
Schools and Local Authorities are particularly interested in the SHINE mental health pupil survey. To date, over 16,000 young people have completed the survey from over 200 schools. The data reports are being used by schools to measure pupil wellbeing with a view to highlighting both priorities for improvement as well as positives impacts from current interventions. The data reports are designed to  be shared across the school community with all stakeholders to support an understanding of the factors which influence wellbeing and improve health literacy.
With an eye firmly on COVID recovery planning, schools are identifying SHINE and the SHINE MH survey as a vehicle to support the recovery programme with robust evidence to inform a whole-school approach to wellbeing. We are delighted with the interest in the Network and look forward to working with schools as they prepare for a new, and hopefully easier, academic session in 2021-2022.